Nearly 80% of US incinerators located in marginalized communities, report reveals
New research from the New School characterizes incineration as "an industry in decline." WTE stakeholders, however, hold a different opinion.
The vast majority of U.S. incinerators are located in the country's most marginalized communities, according to new research from the Tishman Environment and Design Center at the New School.
The report, which was commissioned by Global Alliance for Incinerator Alternatives (GAIA), reveals that of the 73 incinerators remaining in the U.S., 79% are located in low-income communities and/or communities of color. 4.4 million people across the U.S. live within three miles of incinerators, approximately 1.6 million of whom are within a three-mile radius of the twelve top emitters of PM2.5, NOx, lead and mercury pollutants.
The majority of these "Dirty Dozen" facilities, including 10 of the 12 incinerators that emit the greatest quantities of lead annually, are located in environmental justice communities — a product, the report notes, "of historic residential, racial segregation and expulsive zoning laws that allowed whiter, wealthier communities to exclude industrial uses and people of color from their boundaries."
Paul Gilman, Covanta's chief sustainability officer, disputed to Waste Dive the direct health impacts of incineration, citing a 2017 Oregon Metro white paper that determined "there was not a predictive or actual increase in health issues, including for those in vulnerable or sensitive 'at-risk' populations such as children or the elderly."
While the New School report acknowledges health risk uncertainties associated with toxic air emissions from incineration, it argues that lack of conclusive scientific certainty regarding the causes or consequences of harm "should not be viewed as a reason to postpone preventative measures, as affirmed by many international conventions."
"The precautionary principle was defined at the Wingspread Conference in 1998 as, 'When an activity raises threats of harm to human health or the environment, precautionary measures should be taken even if some cause and effect relationships are not fully established scientifically,'" the report notes, highlighting the principle as a foundational tenet of the environmental justice movement. "While the direct health implications of incineration are not well studied, incinerator emissions contribute to the overall cumulative impacts that may harm [environmental justice] communities."
Furthermore, the authors assert, incinerators are "risky investments for cities, highly capital-intensive, and the most expensive form of garbage disposal." High construction costs (a recently-halted WTE project in New York's Finger Lakes region was projected to cost $365 million to build) often lead companies to rely on low- or no-cost municipal bonds and other government subsidies, while expensive operation and maintenance costs (estimated by the authors to fall within an average range of $17-$24 million annually) can leave owners with tight margins and operating deficits.
Get waste news like this in your inbox daily. Subscribe to Waste Dive:
Ultimately, the report predicts the "impending decline of MSW incinerators in the U.S." — spurred, in many cases, by the communities most impacted.
"Cities sit at a crossroads," said Denise Patel, GAIA's U.S. program director, in a statement. "They can choose to bind themselves to a new generation of incinerators that will cost millions and continue to pollute our most vulnerable communities, or they can transition to a sustainable system that improves public health and saves money."
Gilman dismissed the report's conclusion, commenting that the depiction of WTE as a failing industry "seems to conflict with the opening of 125 facilities in the last five years."
While landfills have long dominated the U.S. waste disposal landscape (according to U.S. EPA data, 52.5% of U.S. municipal solid waste was landfilled in 2015, compared with 12.8% "combusted with energy recovery"), many industry stakeholders anticipate growing domestic interest in WTE — particularly in the Northeast region.
"We like the Northeast disposal market — it's on the cusp of change," said Paul Mitchener, managing director at Macquarie Infrastructure and Real Assets, at this year's NAWTEC conference. "It's the most European market today. Prices have been rising for landfill disposal, but WTE plants are still receiving a lot of waste — and we don't think there's going to be any change in technology or regulation that's going to drive away a lot of the waste that's going to facilities we're investing in."
"We believe in WTE," he added. "We don't care that some of these assets are 30 years old. We see a great future in this business."
Wheelabrator, which was recently acquired by Macquarie, did not respond to Waste Dive's request for comment.
Covanta CEO Steve Jones also highlighted increasing market demand for "sustainable non-landfill solutions" during the company's Q1 earnings calllast month, revealing "early signs of interest by a few of our clients in adding new domestic EfW capacity."
"Right now, we're moving through a transitory stage around the original big landfills," Dan Mannes, Covanta's vice president of investor relations, told Waste Dive during the recent WasteExpo conference. "They're going to run out of air space; they're not there forever."
While the New School report does not directly compare incinerators with landfills — currently the third-largest source of human-related methane emissions in the U.S. — Claire Arkin, GAIA's communications coordinator, highlighted a recent Center for International Environmental Law (CIEL) report on plastic's climate change contribution when asked about the relative impacts.
"[The report] shows how incinerating plastic is the worst waste management option for plastic [—] much worse than landfilling," she told Waste Dive via email. "The climate impact of plastic waste incineration in the U.S. was about 5.9 million metric tons in 2015, which is equivalent to 1.26 million passenger vehicles driven for one year, or more than half a billion gallons of gasoline consumed."
The Colombian Association of Engineers, ACIEM, Antioquia Chapter and the Council for Research and Technologies Waste To Energy, WTERT Colombia; invites you again to participate in the second edition of the Pan-American Waste To Energy Conference, which will be held in Medellín between June 6 and 8, 2018.
---
SEAB ENERGY AIMS TO USE ANAEROBIC DIGESTION IN 'SMART VILLAGE'
to Indian Villages
SEaB Energy has launched a crowdfunding campaign to raise money for distributed waste to energy in Indian villages.
Southampton, UK based small-scale anaerobic digestion firm, SEaB Energy, has launched a crowdfunding campaign to raise money for distributed waste to energy in Indian villages.
The company noted that access to a safe and reliable energy supply is crucial to human well-being and to any country's economic development and yet, globally, 1.2 billion people are without access to electricity with more than 95% of these people in either in sub-Saharan African or developing Asia, and around 80% are in rural areas.
In partnership with the University of California, Berkeley, and the state government of Andhra Pradesh, SEaB Energy is part of a revolutionary new program that aims to transform the lives of villages in remote communities.
If successful will be replicated throughout the state, with the potential of benefitting similar impoverished communities across the rest of India and even the globe. The program also ties up with the 'Swachh Bharat Abhiyan', or Clean India Mission; a campaign that aims to clean up the streets, roads, and infrastructure of India's cities, smaller towns.
The Project
SEaB aims to send its waste to energy technology to a remote village in the Andhra Pradesh region of India that is the site of a ground-breaking 'Smart Village' program that aims to improve the well-being of remote communities.
The company launched the crowdfunding campaign to assist it in donating its technology to provide the villagers of Mori the ability to generate a source of reliable, green electricity from their own food and organic waste.
"There could be as many as 50 million rural households in India without electricity but prohibitive infrastructure costs could mean that these people may be never ever connected to the grid," explained Sandra Sassow, SEaB Energy's CEO and Co-Founder.
"The opportunity here is to not only demonstrate that our technology can dramatically improve the well-being of the villagers of Mori, but also to give hope to the millions around the world currently living off-grid with no expectation of ever being connected," she continued.
The company is looking to raise one-third of the necessary funds that will be used to prepare, transport and install two of its systems to the site in the village of Mori in Andhra Pradesh.
Technology
SEaB's waste to energy technology is housed in standardized shipping containers, transforms food and organic waste into electricity, heat, water, and fertilizer directly on site of where the waste is produced.
"Our systems not only provide electricity for cooking, lighting, and refrigeration but could also allow each family in the village to run a laptop, connecting them to the cloud, that will enable better access to education that will improve their long-term prospects," said Sassow.
small-scale FLEXIBUSTER™ and MUCKBUSTER™ anaerobic digestion systems are automatically controlled and remotely monitored, capturing data for sustainability reporting.
The project will create new jobs in India and will also improve the skills of the villagers by training them to support the installation, operation, and maintenance of the systems, thus becoming SEaB certified mechanical, plumbing and electrical technicians.
To support the project visit the Kickstarter page here.
$277m Waste to Energy Order for MHIEC in Kawasaki, Japan
07. March, 2018
Mitsubishi Heavy Industries Environmental & Chemical Engineering Co., Ltd. has received an order from Kawasaki City to replace the Tachibana Waste to Energy (WtE) Plant.
Mitsubishi Heavy Industries Environmental & Chemical Engineering Co., Ltd. (MHIEC) has received an order from Kawasaki City to replace the Tachibana Waste to Energy (WtE) Plant.
MHIEC explained that the plant will process around 600 tonnes per day of municipal solid waste in Kawasaki's Takatsu District.
The existing facility will be rebuilt as a stoker type incinerator with a total waste treatment capacity of 600 tonnes per day (tpd).
The order is a joint venture project with Taisei Corporation, and is valued at 29.8 billion yen ($277 million). Completion is scheduled for September 2023.
The Tachibana WtE Plant had operated for around 40 years, but the facilities have aged and the incineration plant ceased operations in March 2015. The WtE Plant subsequently closed in 2016.
The current facilities will be dismantled and removed, and construction will begin on the new center. The new MSW incineration plant will comprise three stoker type incinerators, each with a capacity of 200 tpd, as well as other related equipment.
MHIEC acquired MHI's waste treatment plant business in 2008, incorporating MHI's environmental protection systems technology, as well as its expertise in the construction and operation of waste management facilities in Japan and overseas. The company added that it will pursue further waste to energy orders.
_______________________________________________________________________________________________________
Europe's largest energy-from-waste plant for municipal solid waste is to be built in Istanbul. The turnkey contract, together with one-year operation has been awarded to the Swiss company Hitachi Zosen Inova together with its Turkish partner Makyol. The plant will process 1 million tonnes of waste per annum generating around 70 MW of electricity.
 The development of the project to construct an energy-from-waste (EfW) plant in the Turkish capital of Istanbul took several years. The signing of the contract on September 11, 2017 between the client Istanbul Metropolitan Municipality (IMM), and a consortium comprising Swiss cleantech company Hitachi Zosen Inova (HZI) and the Turkish construction firm Makyol, signals the start of the execution phase. Beside the design and construction, the contract covers also the operation and maintenance of the turnkey plant for at least one year.
 This first EfW plant for municipal solid waste in Turkey will also be the largest of its kind in Europe and will be located close to Istanbul's new airport in the northwest of the city. From 2021, its three incineration lines will process around 15% of the city's municipal solid waste every year, generating around 70 MW of net electricity.
In addition to HZI's extensive array of references worldwide, the technical aspects above all were decisive for IMM in awarding the contract. Istanbul is HZI's first project in Turkey. "The region has enormous potential in the area of EfW," said HZI CEO Franz-Josef Mengede, adding: "As an international company, we are proud to have achieved this key milestone in waste management in Turkey together with our partner, thus paving the way for further EfW projects going forward."
 Adding Value Locally
Besides supplying electricity, the new plant will also deliver added value for the region economically: more than a fifth of all components will be produced by local businesses, while all of the work in connection with the construction will be carried out exclusively by local workers.
With the realisation of this prestigious project another region devotes itself to an ecological and sustainable waste management system and thus contributes to the worldwide decarbonisation and the reduction of other harmful emissions.
_______________________________________________________________________________________________________

AUTHOR
New York City has been making measurable progress in recent years, but without significant buy-in from the public and local legislators, the Department of Sanitation (DSNY) recognizes that achieving "zero waste" by 2030 will be a tall order.
"We are on track but I'm going to need some help, folks," said DSNY Commissioner Kathryn Garcia during a Sept. 18 hearing of the City Council's sanitation committee. "There are going to be some big controversial projects that are going to come up in the future."
According to newly released data from FY17, the city's residential diversion rate was 17.4% and total diversion for DSNY-managed material was 20.5%. Exact data on the city's commercial diversion rate is often disputed, though some estimates put it in the low 20% range.
A potential "save-as-you-throw" program and commercial waste franchise zones were repeatedly mentioned as the biggest game changers during the multi-hour hearing on New York's "zero waste" progress. New strategies for engaging residents, such as publicizing district-level diversion rankings were also discussed. Council members repeatedly asked for more transparency on this publicly available data, though were hesitant about comparing neighborhoods.
The committee also discussed Intro. 1573, a bill that would codify New York's 2030 "zero waste" goal. DSNY supported the bill's intentions but didn't formally endorse it. This goal, established by Mayor Bill de Blasio in the 2015 OneNYC plan, is currently voluntary and subject to change by future administrations.
Even before the 2030 goal was established, New York's waste infrastructure and diversion programs had been changing for years. Though due to a long list of logistical, political, environmental and budgetary factors, this change often happens slower than some would like. The "zero waste" goal has undeniably accelerated this process, and expanded the scope of DSNY's work.
"For much of the 20th century, the Department of Sanitation primarily engaged in the carefully choreographed art of collecting and disposing whatever New Yorkers decided to throw away. Today, however, we know that 'away' does not exist," said Garcia during the hearing.
Over the last few years, the agency has created the largest curbside organics and e-waste collection programs in the country, taken a more active role in the commercial waste sector, and become more engaged in reuse and circular economy work, among many other initiatives. The expected implementation of single-stream recycling will mark another major change in 2020. Because of New York's unique scale and complexities, the implementation of each program is often held up as an achievement in and of itself. The question for many in local waste circles, including the council members that organized this hearing, is whether all of this work is showing results.
Get waste news like this in your inbox daily. Subscribe to Waste Dive:
Regardless of how progress is being measured — a 90% diversion rate or a 90% reduction in landfill waste — this shows that much work still remains. The fact that waste-to-energy usage is acceptable under this plan, and will increase in future years due to a long-term contract with Covanta, adds another wrinkle. A lack of clear data in the commercial sector makes it harder to assess progress on their own "zero waste" target.
This type of technical discussion and incremental progress can be inconvenient for council members looking to see clear results. Ongoing work to improve city data collection, engage more residents and enforce commercial recycling rules will help. Single-stream can also be expected to increase diversion — based on the experiences of other cities — while creating new contamination challenges.
Initiatives such as "save-as-you-throw" and franchising will be heavier lifts for a council that had one of its most contentious votes in years over adding a 5-cent fee to single-use bags. Upcoming city elections will bring some change to the council's membership, because some of them are term-limited. However, the politics around these issues are likely to remain the same.
All of these expected roadblocks or speed bumps raise the question of whether the city's 2030 goal is even achievable. For the multiple environmental, labor and industry groups that testified during the hearing, the conversation created by all of this was seen as potentially more important than the end goal itself.
"Skeptics argue that a zero waste policy is over-ambitious, if not unachievable, and therefore we shouldn't set such forward-looking goals. But the naysayers are wrong," said Eric Goldstein, New York City environment director for the Natural Resources Defense Council. "The zero waste goal is aspirational. It opens the door for new ideas and different approaches to be tried. And it's a symbol that can inspire the public to adopt new lifestyles that are more sustainable."
The need for more public and legislative support was emphasized many times from many corners. Representing the industry professionals that help carry out much of this work, the Solid Waste Association of North America also expressed their support for the 2030 goal — with a dose of reality.
"We have to acknowledge the difficulty, as no major east coast city diverts even half of their waste from disposal at the present time, and there is not sufficient infrastructure in or near New York City to manage the array of materials that are currently being generated," said SWANA CEO David Biderman during the hearing. "Achieving the city's 'zero waste' by 2030 goal means asking all New Yorkers to change their consumption habits, which is much more difficult than passing laws or developing catchy 'zero waste' slogans."
A little more than two years into what could be described as New York's "zero waste" era, the city may be facing one of its biggest waste challenges yet. This goes beyond finding more efficient ways to pick up and process material. Making this happen will require more fundamental changes in the way manufacturers, the solid waste industry, politicians and residents view waste itself. That type of conversation about consumption and resource recovery is one that's still evolving even in the world's most sustainable urban centers.
Wheelabrator Technologies, has reached financial close on the 675,000 TPA Ferrybridge Multifuel 2 waste to energy facility in West Yorkshire, UK.
The UK division of New Hampshire based waste to energy firm Wheelabrator Technologies,  has reached financial close on the 675,000 tonnes per year (744,000 tons per year) Ferrybridge Multifuel 2 waste to energy facility in West Yorkshire, the second project in the Multifuel Energy Ltd. (MEL) partnership with Utility firm, SSE.
Once complete the Ferrybridge Multifuel 2 energy from waste plant will generate around 70 MW net of electricity to power UK homes and business.
The first project in the MEL partnership, Ferrybridge Multifuel 1, a 675,000 tonnes per year (744,000 tons per year) waste to energy facility co-located in West Yorkshire, has been operational since 2015.
"Following the successful working partnership between SSE and Wheelabrator Technologies on the Ferrybridge Multifuel 1 project, we welcome the opportunity to continue the partnership and complete construction of the Ferrybridge Multifuel 2 project, which has progressed well over the past 12 months," commented SSE's Director of Business Development Sandy Honeyman.
Construction on Ferrybridge Multifuel 2 commenced in August 2016 and plant operations are expected to begin in Q3 2019.  Now, one year into its three-year construction phase, the facility is creating hundreds of additional jobs in the local area and dozens of local supply chain opportunities. Once operational, the facility is expected to create 47 new, full-time operational roles.
"This financial close is another major milestone for our 50:50 joint venture partnership with SSE to build and operate new energy from waste projects," said Wheelabrator President and CEO Robert Boucher.
"We look forward to a long-term partnership with SSE and remain committed to investing in new long-term waste infrastructure across the UK, providing local and regional solutions to waste management and clean energy generation," he continued.
Progress to reach financial close on Wheelabrator's £207 million share of the Ferrybridge Multifuel 2 construction project follows the award of planning consent by the Secretary of State in October 2015 with an environmental permit being granted by the Environment Agency one month later.
Fuel for the Ferrybridge Multifuel 2 facility will be supplied by a number of major waste management companies through long-term fixed price contracts.
Wheelabrator is owned by Energy Capital Partners, an energy infrastructure-focused private equity firm.
________________________________________________
Updated: Aug 30, 2017, 05.45 P ..
KOCHI: A UK-based entrepreneur specialising in converting waste to energy has proposed to invest Rs 1500 crore in several South Indian cities to set up plants in the next five years with advanced technology to tackle the waste menace.
GJ Nature Care &Energy (GJNCE) promoted by Giby George has won the global bid for the waste-to energy project in Kochi . He is also in advanced stage of negotiation with the state governments in Kerala, Tamil Nadu, Karnataka and Andhra Pradesh to b ..
_______________________________________________________________________________________________________
5th to 8th September: Improving wellbeing by bringing the best minds together to explore solutions to and through waste!
THEMES & SCHEDULE
All times are in GMT/UTC
Separate registration for each day
_______________________________________________________________________________________________________
Another success story in Latin America sees the closure of a dumpsite in San Vicente, Buenos Aires
8 Jun 2017 –
Last month Luis Lehmann, from the Argentine Ministry of Environment wrote a guest blog for ISWA on Argentina's Zero Open Dump Programme. 

We are delighted to share an update on their progress from our National Member in Argentina, ARS. To commemorate the World Environmental Day (5th June 2017), the President of Argentina, Mauricio Macri together with the Governor of the Province of Buenos Aires, María Eugenia Vidal and the Executive Director of the Provincial Agency for Sustainable Development (OPDS) Ricardo Pagola, announced the closure of an open dump in San Vicente, Province of Buenos Aires. (pictured left)
This action is included under the MOU signed between ARS, National Member of ISWA in Argentina and the Ministry of Environment during the ISWA International Conference on Solid Waste Management that took place in Buenos Aires last April 27.
The open dump occupies an area of more tan 8 hectares and has been there for more tan 20 years.
---

WTE potential  in UK
Dive Brief:
U.K. waste and recycling company Biffa recently announced a new agreement with Covanta to explore potential waste-to-energy projects as part of its annual earnings results, as reported by MRW.
Through an exclusive agreement, the two companies will assess the possibility of facilities at two sites in the counties of Leicestershire and Cheshire.
"It is clear the UK has a significant shortage of EfW treatment capacity. It is in our interest that it is filled and the infrastructure is built. Our choice [of technology] will be very, very low risk," Ian Wakelin, Biffa's chief executive, told MRW.
Dive Insight:
Biffa doesn't currently operate any WTE facilities of its own and this partnership could mark new territory for the company. The move would expand Covanta's presence in the U.K. as well, following the announcement of plans for another facility with Veolia last year.
Covanta's Dublin facility is currently the company's only completed project in the U.K. Commissioning and testing have begun, with plans to be fully operational by the end of the year, though a delay could be possible following a recent lime exposure incident that sent multiple workers to a local hospital. Investigations by Covanta and multiple governments agencies are underway to better understand what caused the issue.
Though Covanta's latest quarterly earnings were positive, due in part to expansion of the company's special waste business, their leadership has recognized that the potential for building new facilities in the U.S. is currently limited. The U.K. is one of multiple markets that they're currently exploring to find new partnerships, as well as Australia.
---
Sweden's recycling is so revolutionary, the country has to import rubbish from other countries to keep its recycling plants going. What lessons can we learn, asks Hazel Sheffield
Sweden is so good at recycling that, for several years, it has imported rubbish from other countries to keep its recycling plants going. Less than 1 per cent of Swedish household waste was sent to landfill last year or any year since 2011.
We can only dream of such an effective system in the UK, which is why we end up paying expensive transport costs to send rubbish to be recycled overseas rather than paying fines to send it to landfill under The Landfill Tax of 1996.
The UK has made strides in the proportion of waste recycled under an EU target of 50 per cent by 2020. This has underpinned hundreds of millions of pounds of investment into recycling facilities and energy recovery plants in the UK, creating many jobs. We're not quite at that target yet. Recycling in the UK peaked at around 45 per cent of all waste in 2014.
Since then, provisional figures from the ONS have shown that figure has dropped to 44 per cent as austerity has resulted in budget cuts. The decision to leave the EU could be about to make this situation worse. While Europe is aiming for a 65 per cent recycling target by 2030, the UK may be about to fall even further behind its green neighbours.
Why are we sending waste to Sweden? Their system is so far ahead because of a culture of looking after the environment. Sweden was one of the first countries to implement a heavy tax on fossil fuels in 1991 and now sources almost half its electricity from renewables.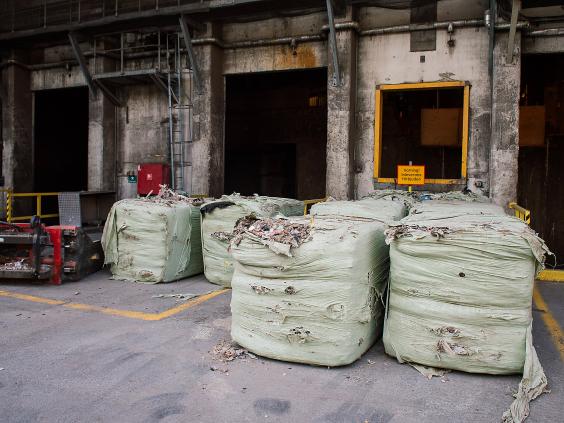 "Swedish people are quite keen on being out in nature and they are aware of what we need do on nature and environmental issues. We worked on communications for a long time to make people aware not to throw things outdoors so that we can recycle and reuse," says Anna-Carin Gripwall, director of communications for Avfall Sverige, the Swedish Waste Management's recycling association.
Over time, Sweden has implemented a cohesive national recycling policy so that even though private companies undertake most of the business of importing and burning waste, the energy goes into a national heating network to heat homes through the freezing Swedish winter. "That's a key reason that we have this district network, so we can make use of the heating from the waste plants. In the southern part of Europe they don't make use of the heating from the waste, it just goes out the chimney. Here we use it as a substitute for fossil fuel," Ms Gripwell says.
Sweden's heating network is not without its detractors. They argue that the country is dodging real recycling by sending waste to be incinerated. Paper plant managers say that wood fibre can be used up to six times before it becomes dust. If Sweden burns paper before that point it is exhausting the potential for true recycling and replacing used paper with fresh raw material.
Ms Gripwall says the aim in Sweden is still to stop people sending waste to recycling in the first place. A national campaign called the "Miljönär-vänlig" movement has for several years promoted the notion that there is much to be gained through repairing, sharing and reusing.
She describes Sweden's policy of importing waste to recycle from other countries as a temporary situation. "There's a ban on landfill in EU countries, so instead of paying the fine they send it to us as a service. They should and will build their own plants, to reduce their own waste, as we are working hard to do in Sweden," Ms Gripwall says.
"Hopefully there will be less waste and the waste that has to go to incineration should be incinerated in each country. But to use recycling for heating you have to have district heating or cooling systems, so you have to build the infrastructure for that, and that takes time," she adds.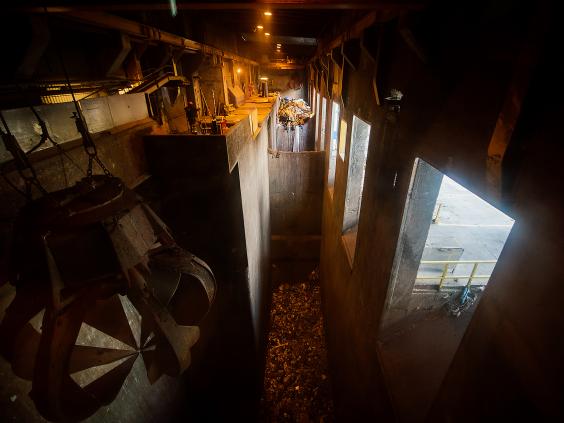 Swedish municipalities are individually investing in futuristic waste collection techniques, like automated vacuum systems in residential blocks, removing the need for collection transport, and underground container systems that free up road space and get rid of any smells.
In the UK, each local authority has its own system, making it difficult for residents to be confident about what they can recycle and where. "We need more of a coherent national strategy in England to the collection of recyclable materials, rather than the current approach, whereby it is largely left to individual local authorities to determine their own collection policies," says Angus Evers, partner at Shoosmiths and a convenor of the UK Environmental Law Association's Waste Working Party.
Local authorities will often start by recycling the highest volume materials because they are measured according to the proportion of waste recycled, so bigger items count for more. "Whatever we end up with in the UK, we need a system which collects all recyclable materials rather than cherry-picking the easiest and cheapest," says Richard Hands, chief executive of ACE UK, the drink carton industry's trade association.
Mr Hands points to his own drinks carton industry, which includes Tetra Pak, SIG Combibloc and Elopak. Through ACE UK, these brands have driven up carton recycling, more than doubling the number of local authorities collecting cartons from 31 per cent in 2011 to 65 per cent in 2016.
He says that the UK needs to build infrastructure around recycling plants so that it can stop sending waste overseas. Some local authorities already have a "no export" policy to achieve this. "Growing the UK waste industry will create jobs and generate UK-based revenue for the economy," Mr Hands says.
---
---
PERTH MRF 'MOST ADVANCED IN SOUTHERN HEMISPHERE
BHS Recycling Equipment Fired Up as Cleanaway Opens 50 TPH MRF in Perth
In Perth, Western Australia, Cleanaway has opened a new 50 tonne per hour Single Stream MRF designed, manufactured and installed by Bulk Handling Systems.
In Perth, Western Australia, waste and recycling firm Cleanaway has opened a new 50 tonne per hour Single Stream Materials Recycling Facility (MRF) designed, manufactured and installed by Eugene, Oregon based Bulk Handling Systems (BHS).
The facility, known as the Perth MRF, is able to process 250,000 tonnes per year, enough capacity to sort all of the city's residential recyclables.
According to Cleanaway, the Perth MRF is the most advanced recycling facility in the Southern Hemisphere. The system applies a variety of recovery technologies to achieve high rates of throughput while maximising the recovery and purity of recycled commodities.
BHS Tri-Disc™ screens are the core of the sorting process, screening out glass and producing clean paper and container streams. The Debris Roll Screens® are employed early in the process to quickly break and remove the high volumes of glass that are typical in Australia, which is then purified by two Nihot Single Drum Separators.
NRT optical sorters are employed in both recovery and quality control applications throughout the plant. According to BHS the new ColorPlus™-R optical sorters are able to analyse the color of opaque objects, remove small cardboard from the news stream.
To achieve Cleanaway's extremely high standards of over 97% recovery of plastic containers whilst meeting purity rates in excess of 98.5%, six SpydIR® optical units target fiber and polymers to produce PET, HDPE and mixed plastics.
"The system is applying screen, air and optical technology to create a highly automated and efficient recovery system. The application of optical technology to ensure high quality paper products is an especially important step in a market where fiber purity is of the utmost importance," explained BHS CEO Steve Miller.
"Cleanaway now has a distinct competitive advantage in the age of China's National Sword program. He continued. "This MRF is Australia's finest, a showcase system that enables Perth to significantly increase diversion while producing high-quality products for years to come."
Future proof
According to Cleanaway CEO and managing director, Vik Bansal, the multi-million-dollar facility is a major step forward in both infrastructure and technology and will take recycling in Western Australia to a whole new level of quality and purity.
"The Perth MRF is a significant investment for Cleanaway in line with our Footprint 2025 plan and a demonstration of our firm commitment to creating a sustainable future for Australia," he said.
Cleanaway general manager for Western Australia, David Williamson, added the facility is designed to address Perth's recycling needs for the next decade and beyond.
"With the city's population set to reach 3 million by 2020, Perth households and businesses will be producing more waste than ever before," he said. "Increasing the state's capacity for resource recovery is a top priority for Cleanaway. Our new MRF will be our first facility capable of recycling household and business waste."
"We are opening the door to small and large-scale commercial customers and making recycling easier in the workplace, giving businesses the ability to recycle in the same way as households. Cleanaway was the first to introduce a MRF to WA in 1988 and we look forward to continuing to lead the way in recycling and landfill diversion," concluded Williamson.
Read More
BHS to Install 50 TPH Comingled Material Recycling Facility in Perth, Australia
Eugene, Oregon based recycling equipment manufacturer, Bulk Handling Systems is to design, engineer, manufacture and install a 50 tonne per hour (tph) commingled Material Recycling Facility for Cleanaway Waste Management Ltd in Perth, Australia.
MAX-AI from BHS Brings Next Generation Robotic Sorting to the Recycling Industry
Nashville, Tennessee based optical sorting equipment manufacturer, National Recycling Technologies, a part of BHS, has introduced its Max-AI technology – an artificial intelligence that identifies recyclables and other items for recovery.
BHS to Supply Equipment at Huge Recycling Facility in UAE
Sharjah, UAE based environmental services provider, Bee'ah, has selected Oregon, US based recycling equipment manufacturer, Bulk Handling Systems (BHS) to design, engineer, manufacture and install a major retrofit to the company's Sharjah Material Recycling Facility.
---
AEMERGE REDPAK'S FIRST VIRTUAL LANDFILL FACILITY
Californian medical waste firm Aemerge RedPak's first 'Virtual Landfill' facility is now online and available to treat all medical waste streams.
Californian medical waste firm Aemerge RedPak's first 'Virtual Landfill' facility is now online and available to treat all medical waste streams.
Utilsing its patented Carbonizer® process, theVirtual Landfill technology is claimed to convert medical waste to energy while recycling scrap metals and diverting up to 95% of medical waste from traditional landfills.
The California  Department of Public Health granted approval for Aemerge RedPak's lower capacity phase one unit to begin treating all types of medical waste – including pharmaceutical, pathological, trace chemo, sharps and biohazardous – at its Virtual Landfill facility in Hesperia, CA.
It is now the only California-based option for medical waste categories required to be treated by high heat; the company is already working with a growing list of waste generators to treat waste at its Virtual Landfill facility utilizing Carbonizer technology.
"Our core focus is to provide a safe, reliable and convenient treatment solution for generators of all medical waste streams," said Adam Seger, President of Aemerge RedPak.
Using its patented technology, Aemerge RedPak's Carbonizer converts organic waste stream into energy and material co-products with low air emissions to process organic waste, making it the most advanced available technology for processing carbonaceous waste.
The company said that it expects the facility's California location to significantly reduce medical waste generator liability and transportation emissions.
Previously, certain types of regulated medical waste requiring high-heat forms of treatment would have to be shipped across the country to the few remaining approved incineration facilities.
Carbonization is claimed to be a cleaner process than incineration and enable generators of medical waste in the western U.S. to have it treated closer to their facilities.
"California is setting the bar by supporting the most environmentally conscious and effective technology for medical waste treatment," said Seger.
In addition to RedPak's current treatment unit, it's in the process of installing a much larger Carbonizer at its Hesperia facility that will significantly increase the pounds per hour of waste it can treat (phase two). The larger Carbonizer and additional capacity will be commissioned and online by the end of this summer.
Read More
IN DEPTH: California's Medical Waste Microwave Move
When California based ACT Environmental was challenged by one of its clients to find a way to recycle its medical waste, it opted to develop a microwave disinfection plant able to sterilise the regulated wastes and turn them into a high-quality RDF.
VIDEO: New ACT Microwave Disinfection Plant for Californian Medical Waste
Sunnyvale, California based hazardous waste management firm, ACT Environmental Services, has opened a new microwave disinfection facility for medical waste.
VIDEO: Medical PVC Waste Recycling Scheme for UK Hospitals Explained
PVC take-back scheme, RecoMed, has rolled out to a number of UK hospitals as the National Health Service aims to better manage the 350,000 tonnes of waste it produces annually, 40% of which is plastic waste
---
On being asked as to why a waste-to-energy (WTE) plant is required for the city, an official of an urban local body said, "It is a clean and productive way of getting rid of the city garbage and companies will be financing from installation of the plant to segregation, it will be their problem to tackle it for our city."
This is the fundamental issue with waste management in India. It is someone else's problem. A number of WTE plants have either come up or proposed in India over the past few years. There are currently five such plants with a cumulative installed capacity of 66.5 MW that are currently operational/under trial run in the country.
In addition, the Ministry of Urban Development has received 53 proposals from 22 states with a potential to generate 405.3 MW of electricity under the Swachh Bharat Mission, which are currently under various stages of construction or tendering. What is alarming is the fact that WTE plants have been proposed in many cities that can easily adopt decentralised solutions and need not invest in capital-intensive technologies.
During a recent state committee meeting held to decide about the waste management strategy for this small city with a population of 10,000-50,000 and waste generation of about 20 tonnes per day (TPD), I was shaken by the interest and enthusiasm of the authorities over getting a WTE plant. They thought it to be the only solution to curb the issues of solid waste.
Rather than focusing on segregation at source, spreading awareness, preparing an action plan for the city for waste management by adopting decentralised technologies, officials emphasised on the need to have a WTE plant.
"We cannot handle the quantity. It is increasing. Moreover, people do not want to segregate," one of the officials said.
Composition of waste
For any city, to adopt a technology for processing waste, first an inventorisation on its generation as well as composition of solid waste is required. Composition is critical. One can only lay emphasis on a particular technology after having assessed the composition of waste.
For this city, generating 20 TPD of solid waste per day, 50-55 per cent of the fraction is organic, 11 percent is paper, 13.5 per cent plastic and packaging, 6 per cent glass and metal and the remaining are inert materials.
While I constantly pointed out at this meeting that if your composition is as mentioned above, you clearly do not need a WTE plant. You must focus on segregation at source, generation of biogas out of your organic waste (this city being one of the prominent hill stations) and channelisation of your recyclables. But it seems they had simply given up on adopting any of these ideas.
What can small cities do?
Small cities, having population between 10,000 and 50,000 can easily tackle their waste through better management and planning.
Urban local bodies (ULBs) should invest in preparing an action plan on waste management in accordance with the Solid Waste Management (SWM) rules, 2016 within a time-bound approach. The action plan should have the following components:
Segregation at source (household level) into wet, dry and domestic hazardous waste
User fee to be paid by generator
Revise draft bye-laws in accordance with SWM Rules, 2016
Biodegradable waste should be processed, treated and disposed of through composting or bio-methanation on the premises as far as possible and the residual waste will be given to the waste collectors or agency as directed by the local authority
Spot fines on littering
Mapping and integration of concerned stakeholders in SWM management: urban local bodies, residents, bulk generators, market associations, commercial centres, hotels, NGOs and community-based organisations, academicians and the informal sector
ULBs, in assistance with NGOs and residents, to conduct IEC and awareness programmes. Ensure involvement of children in the process
Low-cost, local solutions is the need of the hour. The trick should be to promote and adopt the key elements of waste hierarchy as refuse, reduce, reuse, recycle and recover.
The cost of building and operating WTE plants or providing sanitary landfill sites is enormous. If substantial parts of these funds are diverted towards waste minimisation and recycling, the need for waste disposal will be enormously reduced, apart from reducing the dangers which arise from both incineration and landfill.
CCC WASTE MANAGEMENT'S BIOMASS BOILER PLANS MOVE FORWARD
VG Consulting has partnered with LJ Architecture to provide environmental support for a 4MW wood waste to energy project being planned by Liverpool based CCC Waste Management.
Galston, Scotland based environmental consultants, VG Consulting, has partnered with planning consultant, LJ Architecture to provide environmental support for a 4MW wood waste to energy project being planned by Liverpool based CCC Waste Management.
As part of the CCC's waste management policy it is installing 4MW of biomass boiler systems with an integrated drying floor. The boilers will be fuelled with Grade A/B waste wood.
For its part, VG Consulting said that it addressed various service areas including biodiversity, acoustic, land and minerals, air quality and waste management surveys to support the planning application. The consultants also advised on legislative procedures and the submission process.
The local Parish Council had raised concerns over the plans. However, according to VG Consulting it helped CCC to respond with detailed answers within the proposal.
The company said that initial objections are common within renewable energy developments, housing, or commercial builds, but that it understand the concerns and answered them directly.
The consultants added that delivering planning submissions that meet criteria and present open communication throughout, gives all parties insight to make informed decisions.
The application was presented at planning committee where it was unanimously approved. Following consent, the next steps are to supply and install four Heizomat biomass boilers (pictured above) and the Welvent drying floor, which will be performed by technology partners VG Energy.
According to Sean Munro, director of CCC Group – CCC Waste Management's parent company – the project represents a total investment of around £2 million.
"Of course this is a substantial investment and after due diligence we realised that this approach will add value to our operations, our customer base and the wider community now and for the future," he said.
Read More
Saxlund Delivers Fuel Handling Tech at 3 Wood Waste Gasification Plants in UK
Saxlund International has installed bulk fuel handling technology and fuel storage facilities for three wood waste to energy plants currently under construction in Barry, Boston and Hull.
18 Month Project to Improve Wood Waste Purities for Energy Recovery
The UK's ETI has launched a new biomass feedstock improvement project to show how the removal of impurities from biomass, including wood waste, could make bioenergy cheaper.
UK Wood Waste Processor & RDF Producer Acquired by Veolia
Gloucestershire, UK based waste wood processer and Refuse Derived Fuel producer has been acquired by French environmental services giant, Veolia.
---
When formulating public policy, regulators and lawmakers should consider the many benefits of using municipal waste as fuel for power generation (aka waste-to-energy technology) — including cost-competitiveness with other forms of energy, environmental performance that is comparable to natural gas, greenhouse gas reduction, encouragement of recycling programs and greater reliability than many other forms of renewable energy.
Waste-to-energy as an option for base load power generation enjoys some popularity in the southeastern and northeastern United States, where state energy and environmental policies have encouraged their construction. Nationwide, about 87 of these plants are turning trash into power. However, due to the lack of a comprehensive national energy policy or widespread state policies that take into account the many benefits of generating renewable energy from waste, the U.S. waste-to-energy industry lags in adoption compared to Europe (where more than 500 plants are operating or under construction) and Asia (where more than 1,600 plants are operating or under construction), where waste-to-energy is commonplace for generating heat and power.
Part of the problem, as we see it, is perception. Today's waste-to-energy power plants are not the "dirty incinerators" of years gone by that garnered a reputation for spewing pollutants into the atmosphere.
Today, generating clean power from trash that would otherwise end up buried in a landfill can play an important role in fulfilling a great many public policy goals, including reduction of air pollutants and greenhouse gases, decreased reliance on landfilling and increased rates of recycling.
As a provider of proven combustion and environmental technologies for waste-burning plants, Babcock & Wilcox can play a leading role as states and municipalities to take a closer look at generating energy from trash. However, we feel the benefits extend far beyond opportunities for our own business.
A great example of that can be seen in West Palm Beach, Florida, which today has the cleanest and most advanced waste-burning plant in North America. The Solid Waste Authority of Palm Beach County's Renewable Energy Facility No. 2, for which B&W designed and manufactured boilers, combustion systems and emissions control equipment, began commercial operation in the summer of 2015. The plant processes up to 1 million tons of post-recycled municipal solid waste per year while producing enough power for 44,000 homes, and is estimated to reduce the volume of waste going to landfill by at least 90 percent, extending the lifespan of the owner's existing landfill by several decades.
---
FEATURE
Waste Dive spoke with DPW Director Christopher Shorter about the District's major waste management overhaul.
Big changes are coming to Washington, D.C. this year in more ways than one.
Following the Sustainable Solid Waste Management Act of 2014, the city has set a goal of diverting 80% of its waste. The D.C. Department of Public Works (DPW) recently released its first annual report on where the system stands. Through the creation of an Office of Waste Diversion and an interagency working group, the city has already taken steps forward, but getting anywhere close to "zero waste" will take years. Using a new metric called the "citywide residential diversion rate," DPW is currently recycling about 21% of its waste.
Previous estimates have put the amount of waste generated in the District at around 800,000 tons per year, with private haulers managing a large share of that material. In FY15, DPW's two transfer stations managed approximately 459,000 tons. About 43% of the city's refuse is currently sent to a Covanta waste-to-energy (WTE) facility in Lorton, VA and whatever isn't recycled or composted goes to a variety of landfills in Virginia.
Implementing the many changes required to reverse these trends will fall onto DPW among many other city agencies. Since he was appointed in September 2015, DPW Director Christopher Shorter has been talking to representatives from cities around the country and reassessing the local system to figure out the best way forward.
Waste Dive spoke with Shorter this week to learn more about what's next for the District.
WASTE DIVE: Based on the events DPW has been helping to host — Feeding the 5000, the first "zero waste" music festival, recycling competitions for businesses and schools — you've been actively raising awareness around waste issues. Changing recycling rules is one thing, but does DPW see the need for a culture change to happen as well?
SHORTER: You are absolutely right. We try to educate young people about what recycling is, what a litter-free D.C. means and so we're going into schools.
In terms of my generation I don't think I had a government agency that came into my school to teach me about recycling. Kids who are involved in our programs are very excited and it really helps when there are school-by-school competitions. Young people get excited about that sort of thing. We have found the programs to be effective and we're going to be ramping up our efforts in a big way in the coming year around education.
In terms of your question of whether we believe doing these kinds of events help, in terms of educating residents, it absolutely does. Most of the people that ate that day with the Feeding the 5000 event had no idea until they got in line that they were about to eat, or were eating, food that would've unfortunately been discarded. This is food that's good and that's well-produced, but would have found its way to the waste stream.
Organic waste diversion was a key focus in the report. What are your plans for expanding organics recycling to residents?
SHORTER: What we celebrated in this report was the D.C. Department of Parks and Recreation's community composting program. Their capacity is growing, this is really a voluntary program and the residents who are involved in that program are those that are the most serious about making sure that they reduce their footprint.
In this current budget year we are exploring composting curbside. That does not mean that we'll be in a position this current year or next to actually introduce or launch. But we'll certainly be pushing as best as we can to make sure that we're thinking about this in the right way and that we're introducing it to residents in the right way. It may start off as an opt-in program and then evolve into more. This also might involve us investing into a capital project that will reduce the need for us to travel outside of the District for a composting facility. So all those things we are sort of in the process now of exploring and I'm certainly excited about the work that's already been done.
Organics processing costs have been a challenge for multiple cities. Where is the material you're collecting currently going? Do you have any partnerships with larger processing facilities in the region?
SHORTER: We don't have any larger-scale partnerships, unfortunately. So our local water and sewer agency has really done some phenomenal work with anaerobic digestion. Food scraps placed in the garbage disposal are sent to this anaerobic digester centrally and it generates energy.
Shifting to the larger picture, this 80% diversion goal also includes waste managed by private haulers from commercial accounts and multi-unit buildings. Why will it be important for private haulers to register with the Office of Waste Diversion and provide data about their operations?
SHORTER: We introduced a number of initiatives, a number of programs, we have events. We're also collecting baseline information now so that three, five, seven years from now we're looking back at this time and we understand the progress. And so there's a lot of behind-the-scenes work being done to establish reporting mechanisms and that's what's happening with private haulers this year so we can have a better picture of what our waste stream is and how much waste is actually being generated and where it's going.
Private haulers are going to begin reporting this year and we've set up partnerships with our sister agency, the Department of Consumer and Regulatory Affairs, which also plays a part in the licensing of private haulers to make sure that…we're getting all of the private haulers that do business in the District.
Based on the annual report, most of DPW's waste and recyclables appear to be going to Virginia or Maryland. Because this waste is not traveling that far compared to the export distances of some other cities and costs may be lower, do you expect to see a big cost savings by diverting organic waste to a local anaerobic digestion facility?
SHORTER: I couldn't say yet in cost savings. Based on our current rates we're paying more per ton for recycling than we are for waste at this point. And so my hope is that we see a reduction in the amount that we're spending but that's not the primary objective here. My hope is that it is a product of us becoming more efficient in effectively diverting.
If and when the 80% diversion goal is reached, does DPW have a preference between landfills or WTE for the remaining refuse?
SHORTER: You know, it's very controversial. We work very well with the local environmental stakeholder group and I don't know that there's unanimous agreement. I know that we are going to work tirelessly to send as little to the waste-to-energy facility as possible over the next few years … At this point the District is utilizing landfill as well as waste-to-energy. The whole goal of the programs and the work that we're doing is to rely on both of those options less and less as the years go by.
What type of contract are you in with Covanta? Are there any minimum tonnage requirements that would limit your diversion options in the future?
SHORTER: We are in a multi-year contract with them, but that contract does not have a floor in the sense that it does not penalize us for diverting. We made sure of that when we negotiated the contract. And so we can continue with them and if we find other opportunities and options for diverting waste then there's certainly no penalty from Covanta to do so.
In addition to diversion, DPW has also been focusing on reduction with the possibility of a pay-as-you-throw system. Is that still on the table as an option?
SHORTER: Yes, we are certainly working with…the D.C. Environmental Network to explore pay-as-you-throw. Based on current thinking there's an almost immediate reduction in the amount of waste being generated in a jurisdiction that takes up pay-as-you-throw. And so we're certainly exploring it and I certainly wouldn't be alone in saying that [it] could potentially be one of the many options that the city takes up to help with the diversion rate.
Last year, a ban on certain polystyrene foam products took effect in D.C. Is the District considering any similar policies for certain types of packaging that may not fit well in the city's new "zero waste" plan?
SHORTER: In general I think the business community, the commercial sector, will play a big role in helping us to achieve our goals around diversion. But yes, packaging is a big one. In fact this is not regulation that DPW is proposing, but we are working with the District's Department of Energy and Environment and they will be proposing some regulations around packaging, around plastics, and potentially do some work around glass as well. And so yes, I would say in general that those things will also help in meeting any goals that any city sets for waste diversion.
As I'm sure you've seen, other cities have been moving away from glass collection. Do you think there's a way to make glass work in DPW's program?
SHORTER: We're in the early stages, we actually have now a third party that we're going to be working with to help us figure this out. So I couldn't say now where we'll end up with glass, but it's definitely a part of the puzzle.
On glass, as well as organics, it sounds like the city is making a conscious choice to move toward "zero waste" not necessarily because it will be more economical or efficient but because it will be more sustainable. Is that a fair assessment?
SHORTER: Absolutely right. D.C. is a world-class city and I think we certainly believe the mayor has made it clear that we want to be as green and as healthy as possible. And I think waste management plays a huge part in that. So we are working as best as we can and as fast as we can to realize some of the goals and the city is ready for it.
. .
Some of the best utility-based stocks to buy right now are in the waste-to-energy market and it appears the juggernaut won't be stopping for some time yet.
The market was valued at $20.86 billion (US) in 2015, and that figure is expected to rocket to around $33 billion by 2023 according to the latest analysis by Global Market Insights.
Part of the reason for the market's success is that it's good PR for governments and public bodies to adopt more ecologically-sound means of disposing of their waste.  The experts at GSI believe that will drive a continued global growth in the market.
Thermal-based technologies have constituted a sizeable portion of the market's revenue, and an incineration process based on thermal technology has been widely employed, and those alone could grow to $29 billion over the forecast period.
Europe is leading the way in terms of energy-from-waste market size, with major operating plants in Germany, France and UK and they comprised almost half (47%) of the total revenue share in 2015.
The European Union's forceful approach in ensuring greenhouse gas emissions from landfills are kept to a minimum may be a factor in why Europe is so keen on the energy-from-waste market. The EU's Renewable Energy Directive has set a binding target to use 20% of energy derived from renewable sources by 2020 and so that has probably accelerated the growth in the European market.
China, India, Indonesia and Brazil are expected to generate significant amount of municipal solid waste in the coming years so and the report says governments in those are considering investing in waste disposal and treatment techniques and are funding projects based on Public Private Partnerships.
In some communities, waste-to-energy projects are making a huge difference.  Take the metropolitan city of Vantaa in Finland as an example, where the local authority has been able to slash district heating prices for residents thanks to cost savings from its waste incinerator.
The plant there currently produces almost half of the energy the city needs every year and since opening in 2014, it has burned over a million tonnes of waste.
Lassi Kortelainen, district heating service director at Vantaa Energy, told Uutiset: "We have achieved a 95-percent efficiency rate, in other words, almost all of the energy we produce is utilised as district heating and electricity.
"We were able to offer basic district heating to our customers in November and December free of charge.
"Overall, we've reached a ten percent reduction in energy charges."
Good news for the people of Vantaa and yet more proof that waste-to-energy is here to stay.
---
Friday, December 16, 2016 – 10:39am
The waste-to-energy (WtE) market continues its strong global growth, with Asian leading the charge.
In its "Waste to Energy 2016/17" report, Germany-based consultancy firm ecoprog said that worldwide treatment capacity reached more than 300 million annual tonnes, with close to 2,150 plants operating in late 2015.
An average of 15 million annual tonnes of added incineration capacity will be installed in 2016, putting the WtE market at an all-time high.
Some 128 new waste incineration plants will be commissioned worldwide between 2015 and 2016 mostly in Asia, translating into 12 to 13 million annual tonnes of capacity for the region, an increase from 4 million in 2007.
More than 150 incineration plants were built in China alone between 2011 and 2015, with an installed capacity of over 50 million annual tonnes.
With more planned WtE projects in other emerging Asian nations such as Thailand, Indonesia and the Philippines, the region is seen as likely to dominate the WtE market in succeeding years.
The report also cites a small revival in the European market, despite a relatively slow rate of 2 to 3 million annual tonnes commissioned since 2012, compared to over 4 million between 2008 and 2010.
The number of WtE projects in Britain remains large, with increased project planning in Southern and Eastern Europe. Italy is currently planning 8 new plants, France is expecting more incineration projects and Poland is preparing more WtE facilities to receive funding from the EU.
Waste policies continue to be the most important factor in the European WtE market, while Asia is driven by increasing amounts of waste, shortages of land and a desire for independence in the energy sector.
The report adds that more than 600 new waste incineration plants with a capacity of over 170 million annual tonnes are expected within the next 10 years.
Follows:
---

Dive Brief:
Gatwick Airport in London has opened what it says is the world's first waste-to-energy facility for airline and terminal waste. The £3.8 million ($4.77 million USD) facility can process waste from both planes and the terminal itself that was previously being taken offsite, as reported by Resource.
The site already had a small material recovery facility and the opening of this new system allows it to treat Category 1 material, such as food waste and mixed packaging. The material will now go through a dryer, be turned into pellets and then burned in a biomass boiler to create heat for the entire terminal.
Gatwick and logistics partner DHL Supply Chain estimate that this new facility will save the airport £1,000 (approx. $1,250 USD) in waste management and energy costs every day.
Dive Insight:
International guidelines stipulate that Category 1 material can only be incinerated or rendered so airports usually have no choice but to handle it offsite, creating transportation costs and vehicle emissions. This waste accounts for about 20% of the 10,500 metric tons of material that Gatwick handles each year.
By developing a more closed loop system with other byproducts such as wastewater that can be used to clean bins and boiler ash that can be used to make concrete the airport has taken a significant step toward its goal of becoming one of the world's most sustainable. Gatwick currently diverts 49% of its waste for recycling and is aiming to reach 85% by 2020. While the U.K. may soon no longer be a part of the conversation these efforts are in the spirit of the circular economy package currently being debated by the European Parliament.
Amid pressure to reduce their large share of transportation emissions, airlines are looking for ways to become more sustainable. Some have been looking at ways to reduce cabin waste and even recycle wastewater they use for maintenance cleaning. Hartsfield-Jackson in Atlanta — the world's largest airport — has also been trying to develop a resource recovery facility on-site for years.
---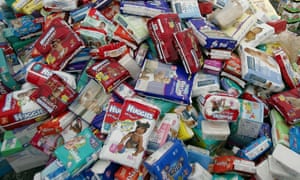 One of the UK's trickiest waste problems is being tackled by turning the undesirable into the combustible – tampons and incontinence pads are being converted into dry, burnable bales. The new initiative, from a major waste company, compresses the waste into fuel for power stations.
Huge volumes of what are known in the trade as "absorbent hygiene products" are produced in the UK. But it is difficult to deal with as its dampness makes incineration expensive. Dumping the waste in landfill is the other current option, but the material takes decades to degrade and heavy and rising landfill taxes are aiming to end the practice.
"Hygiene products are an essential part of many of our everyday lives but disposing of them has always been an issue," said Justin Tydeman, CEO of the PHS group, which developed the new, patented process. PHS removes waste for 90,000 customers across the UK and Ireland, including many offices, schools and care homes, and tackles 45,000 tonnes of sanitary, nappy and incontinence waste a year.
---
Kenya becomes latest African nation to ban plastic bags
NAIROBI, Kenya — Kenya has become the latest African nation to ban the manufacture and import of all plastic bags used for commercial and household packaging.Environment Minister Judi W. Wakhungu gave the order published in a gazette notice dated Feb. 28 and released to the public Wednesday. The new measures will take effect six months from the date of the notice.Thin plastic shopping bags litter the streets of Kenya's capital, Nairobi. They have created towering piles at dump sites.Cameroon, Guinea-Bissau, Mali, Tanzania, Uganda, Ethiopia, Mauritania and Malawi are among the countries that have adopted or announced such bans.Some 100 million plastic bags are handed out every year in Kenya by supermarkets alone, the United Nations Environmental Program said in a statement. It called plastic bags the top challenge for urban waste disposal in Kenya, particularly in the poorest communities where access to disposal systems is limited.

"Kenya is taking decisive action to remove an ugly stain on its outstanding natural beauty," said Erik Solheim, the U.N. program's executive director.

Plastic bags contribute to the 8 million tons of plastic that leak into the ocean every year. At current rates, by 2050 there will be more plastic in the oceans than fish, according to UNEP.

Copyright 2017 The Associated Press. All rights reserved. This material may not be published, broadcast, rewritten or redistributed.
---

BRIEF
NWRA, SWANA release emerging industry technology guide for municipal officials
Dive Brief:
The National Waste and Recycling Association (NWRA) and the Solid Waste Association of North America (SWANA) released an eight-page document to educate elected industry officials on emerging waste management technologies, according to a press release.
This document — written as a brief and a checklist — encourages municipal leaders to be highly aware of the benefits and disadvantages of anaerobic digestion, mixed waste processing, transesterification, gasification and pyrolysis.
The checklist also poses a series of questions on various aspects of each facility — technologies, feedstocks, preprocessing, process, outputs, projects, finances, regulations — that leaders should feel comfortable answering when reviewing proposals for waste management infrastructure.
Dive Insight:
This guidance follows a similarly-themed event on assessing the risk of various conversion technologies hosted by SWANA in Maine last month. As more municipalities look for new ways to maximize revenue from their waste streams or achieve high diversion rate targets, it can be tough to decide which approach is best for them.
Regional material markets, infrastructure costs, permitting requirements and other factors all make the factors behind each potential project unique. Having a standardized framework to assess ideas can potentially help municipalities figure out how to design a request for proposals or evaluate local investment opportunities. Asking the right questions about new companies or untested technologies is important to ensure municipalities aren't taking on undue risk.
Performing this due diligence will also help municipalities communicate the benefits of new projects to local residents. As seen multiple times, once public support is lost it can be hard to win back and a fair siting process is key to a project's ongoing success.
---
Neki od najsićušnijih stanovnika planete mogu pomoći u rješavanju dva velika društvena problema: kako se nositi s ogromnom količinom organskog otpada i gdje naći čiste, obnovljive izvore energije!
Prema Cesar Torresu i Sudeep Popatu, istraživačima sa Biodizajn instituta pri Univerzitetu u Arizoni, određene vrste bakterija su sposobne da pretvaraju otpad u korisnu energiju. Ovi mikroorganizmi se trenutno primjenjuju u pomenute svrhe kroz inovativne tehnologije poznate kao mikrobne gorivne ćelije – MFC.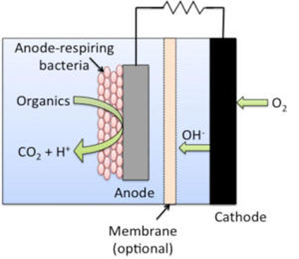 Ovaj grafički prikaz predstavlja osnovu mikrobiološke gorivne ćelije. MFC se sastoji od anode, katode, proton ili katjon izmjenjivačke membrane i strujnog kola. Anodno-respiratorne bakterije se nalaze zakačene za MFC anodu. U toku svoje metaboličke aktivnosti ove bakterije izvlače elektrone iz organskog otpada. Elektroni zatim prolaze kroz strujno kolo do katode proizvodeći električnu energiju, kao i ugljendioksid i vodu. Hidroksidni joni se transportuju sa katode u elektrolit.
foto:www.sciencedaily.com
Kako Torres objašnjava, "velika prednost MFC je direktna konverzija organskog otpada u električnu energiju". U budućnosti MFC mogu biti povezane sa tokovima otpada iz opština ili izvorima poljoprivrednog i životinjskog otpada, sa obezbjeđivanjem održivog sistema za tretman otpada i proizvodnje energije.
Za širu upotrebu tehnologije potrebno je da se radi na poboljšavanju efikasnosti. "Moj trenutni fokus je razumijevanje, na fundamentalnom nivou, na koji način anodno-respiratorne bakterije prenose elektrone iz svoje ćelije na elektrode", navodi Popat, "kao i da se osmisle novi sistemi koji su ekonomični i efikasni".
Naučni tim je ustanovio da postoje značajni gubici u MFC zbog reakcija koje se odigravaju na katodi ovih ćelija. Modifikovanjem materijala koji se koriste za katodu kao i podešavanjem pH vrijednosti, oni su bili u stanju da poboljšaju performanse katode.
Rezultati istraživanja ovog naučnog tima nedavno su se pojavili u časopisu ChemSusChem, u posebnom izdanju posvećenom MFC tehnologiji.
Torres i Popat su radili u Centru za biotehnologiju životne sredine (pri Univerzitetu u Arizoni), kojim rukovodi profesor Bruce Rittman, koji je i koautor ove studije. Biotehnologija životne sredine je disciplina koja se ubrzano razvija i to na različitim poljima, uključujući oblasti mikrobiologije, bioinformatike, hemije, genomike, nauke o materijalima, i udruživanjem različitih tehnika koriste se biološki entiteti, uključujući i bakterije, radi pomaganja društvu.
Dvije glavne oblasti biotehnologije životne sredine su biomedijacija ili čišćenje ekoloških zagađivača i proizvodnja čiste energije. Kako napominju autori, MFC može da obavlja dvostruku funkciju, targetiranje elektrona iz otpada i njihovo konvertovanje u korisnu energiju.
MFC je jedinstvena vrsta baterije – dijelom je elektrohemijska ćelija a dijelom biološki reaktor. Tipično, ona sadrži dvije elektrode razdvojene jonoizmjenjivačkom membranom. Na strani anode, bakterije rastu i razmnožavaju se, stvarajući gust ćelijski sloj poznat kao biofilm koji se drži na anodi MFC-a. U toku njihovog metabolizma, bakterije djeluju kao katalizatori za konverziju organskog supstrata u CO2, protone i elektrone.
Pod prirodnim uslovima mnoge bakterije koriste kiseonik kao elektron akceptor da bi proizvele vodu, ali anaerobnim uslovima u MFC-u, specijalizovane bakterije dominantno šalju elektrone do nerastvornog elektron akceptora, odnosno MFC anode.
Anodno-respiratorne bakterije su u stanju da oksiduju organske zagađivače, kao što su oni koji se nalaze u otpadu, i da prenesu elektrone do anode. Zatim elektroni prolaze kroz strujno kolo do katode MFC-a, i tako se generiše struja. Joni se transportuju kroz jonoizmjenjivačku membranu u gorivnim ćelijama, kako bi se održala elektroneutralnost.
U nastojanju da se što jasnije precizira tehnologija i otkriju izvori gubitaka u MFC-u, naučnici su posmatrali reakciju redukcije kiseonika na MFC katodi. Iako se ranije spekulisalo da se efikasnost ćelije smanjuje zbog toga što je na katodi niska raspoloživost protona, nova istraživanja su pokazala da je umjesto toga transport hidroksidnih jona (OH–) od katalitičkog sloja katode do okolne tečnosti glavni uzrok katodnog gubitka potencijala u uređaju.
"Otkrili smo da je gustina energije koju možemo proizvesti u MFC-u katodno ograničena", navodi Popat. "To je veoma iznenađujuće, jer u hemijskim gorivnim ćelijama, isti katalizator omogućava stvaranje mnogo veće gustine energije."
Ključ za shvatanje ove razlike je u činjenici da MFC, za razliku od hemijske gorivne ćelije, mora raditi pri neutralnoj vrijednosti pH u anodnoj komori, kako bi se obezbijedili optimalni uslovi za rast i aktivnost mikroorganizama koji katalizuju reakcije. Na katodi, OH– joni izazivaju povećanje pH vrijednosti zbog ograničavajuće stope njihovog transporta. Dalje, svako povećanje pH vrijednosti za jedinicu izaziva gubitke na katodi od 59 milivolti a istraživači su otkrili da pH na katodi može lako da pređe 12, što predstavlja značajan gubitak.
Pokušavajući da se popravi ova situacija, sprovedeno je detaljno ispitivanje transportnih osobina katode. Jonske razmjene na vezivu, koje se nalazi na katodi obično pomažu transport jona u okolni elektrolit. Obično je ovo vezivo napravljeno od materijala poznatog kao nafion, koji je, kako autori objašnjavaju, dobar za prenos pozitivno naelektrisanih katjona, poput protona, ali je loš za prenos negativno naelektrisanih anjona, kao što su hidroksidni joni, koji se akumuliraju na MFC katodi, ili od anjonskih tampon vrsta, kao što su fosfati i bikarbonati, koji pomažu prenos hidroksidnih jona.
Eksperimentalni polimer, poznat kao AS-4, koji ima visok kapacitet razmjene anjona, korišćen je u studiji umjesto nafiona, kao katodno vezivo. Ova modifikacija je obezbijedila efikasan transport hidroksidnih jona i poboljšala performanse katode. Studija je pokazala da OH-transport može biti i dodatno poboljšan tako što će se pH podešavati direktno kroz dodavanje smješe CO2 i vazduha, što bi služilo kao tampon za katodne katalizatore.
Studija predstavlja prvu sveobuhvatnu analizu sa katodnim ograničenjima u MFC-u i biće osnova za dalji razvoj ovih sistema. "Glavni značaj našeg rada nije u tome da se trenutno pruže odgovori na sva pitanja, već da se sprovede studija i utvrdi kako se ponaša katoda i identifikuju izvori neefikasnosti", objašnjava Torres. On još kaže: "Sada možemo da počnemo rad na iznalaženju rješenja."
izvor: ScienceDaily
preveo i priredio: Jovan Adžić
Waste360/Stifel Survey Shows Industry Fundamentals Have Not Peaked
We have an "Own a Solid Waste Company" thesis. Solid waste should be a core holding and then trade around it. When the market wants to be defensive overweight a position; when deep cyclicals are in favor underweight and otherwise be market weighted solid waste.
Stifel and Waste360 have launched a survey partnership. The first survey is comprehensive to set some baseline data points. We will then dig deeper into specific topics in future surveys. The objective in this survey was to establish a baseline of analysis covering collection, recycling, disposal and capital spending. We dug into price and volume trends across customer type in collection and capital spending patterns across service lines and disposal offered.